Reading Time:
2
minutes
Highlights:
India is home to many beautiful caves in terms of natural beauty and craftsmanship
Most of these caves are declared natural heritage for tourists to visit
The history of these top caves is known to everyone who comes to visit them!
India has been home to some of the most beautiful caves in the world. The ancient craftsmanship is very clearly visible on these caves, which are carved intricately with periodic scenes. There are mythological scenes carved on the walls of these caves. One can not justify the apparent beauty of these top caves unless they know about their history. 
1. Mawsmai Cave
The Mawsmai Cave in Meghalaya is located near Cherrapunjee. It is about 57 kilometres away from Shillong. The length of the cave is about 250 meters, but only 150 meters are open for the tourists. Do not be disappointed, as these 150 meters of intricate carving are going to blow your mind!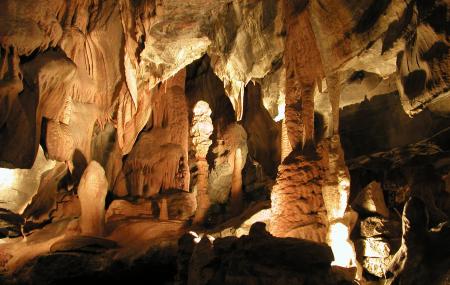 2. Ajantha Ellora Caves
The Ajanta Ellora Caves are located in Maharashtra. The Aurangabad district is very well known for these caves that contain almost every scene from Indian history and mythology. The hard work of the craftsmen is easily visible on the black, glistening caves of Ajanta. These are among the top caves in the world. 
3. Elephanta Caves
The Elephanta caves are located in Maharashtra again in the Elephant islands. The caves are almost 1,400 years old. The speciality of these caves is that they were carved on a single mountain piece. It is one of the most famous tourist destinations of India for top caves. 
Also Read 10 Most Popular Anime Websites For You To Check Out
4. Udaygiri and Khandagiri Caves
The Udayagiri and Khandagiri Caves are located in Bhubaneswar, Odisha. These caves contain the religious scriptures from Jainism. They are also known as Cuttack Caves. The caves are considered to be the resting places for the monks. 
Also Read Planning A Fish Trip This Season? Here's What You Should Do!
5. Krem Puri Cave
The Krem Puri Cave is located in Meghalaya, and it is the longest sandstone cave in the world. The length is about 24.5 kilometres. It is located in the East Khasi hills. The Krem Puri Cave is very well known to history and archaeology enthusiasts. A walk along this cave can be considered an adventure sport as well!
These are the top caves considered as the best tourist destinations for the ones who are visiting India. These best caves of India must be protected from acts of vandalism at all costs. These caves are significant parts of history. We should all show some kind of responsibility in protecting these caves.