Reading Time:
2
minutes
Highlights
Delhi Government introduces free yoga classes for people across Delhi
Delhi Chief Minister Arvind Kejriwal has focused on the need for yoga in day-to-day life
International Yoga Day on 21st June was celebrated with tremendous fanfare.
Long before the International Yoga Day on 21st June, Delhi CM Arvind Kejriwal had announced that a special budget will be set aside solely for the promotion of yoga. He had stated that yoga might be designed as a mass movement in Delhi in order to improve the mental and physical health of the inhabitants. The Delhi Chief Minister has taken an active step to propagate the benefits of yoga among the people so that they can improve their health in an organic manner through free yoga classes.
The Idea Of Free Yoga Classes
The Delhi Chief Minister has also mentioned that his government will be opening up a new course in Meditation and Yoga Sciences. It will be a one-year diploma course. 450 candidates have already enrolled themselves. He has informed that from 1st October, these instructors will be training people from different parts of the national capital free of cost. The AAP government has also noted that if a number of people are interested in practicing as a group, this particular plan will provide them an instructor for free yoga classes.
Kejriwal has highlighted the importance of yoga in every circumstance of life and especially during the covid-19 pandemic. He has mentioned that a strong immunity is the best weapon against infectious diseases, and yoga is one of the best ways through which one can increase his or her natural immunity. Exercise and meditation can help individuals to regulate their breathing as well.
Also Read Shyam Metalics IPO Allotment Date To Be Introduced Soon
Efforts By The Central Government
At the same time, Prime Minister Narendra Modi also hosted a program on Doordarshan on International Yoga Day. The live session was conducted to help educate the people about various yoga asanas and their benefits. Most of the BJP leaders have already tweeted about the benefits of yoga for the human body.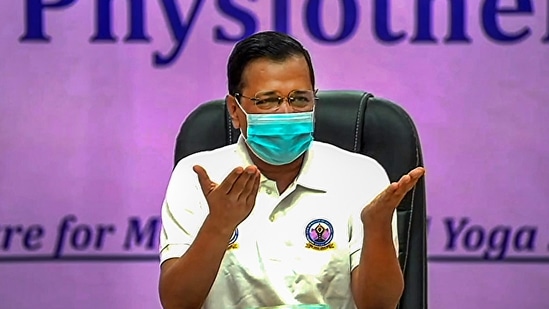 Also Read Delta Plus Variant Wreaks Havoc In Maharashtra
What Do You Think Of It?
What do you think about the idea of free yoga classes? Do you think this a great step taken by the AAP government to tackle the mental and physical health issues of the individuals? Let us know in the comments section!
For latest updates, visit current affairs.