Reading Time:
2
minutes
Highlights :
BJP tweeted images showing the coffin covered with the Indian flag and half covered by the BJP party flag.
Shashi Tharoor has raised questions on this matter.
The act has been an insult to the Indian flag.
It seems that the stream of controversies involving BJP is never-ending in the world of Indian politics. A ceremony was organized in order to pay respect to the late BJP leader Kalyan Singh. The veteran leader died last Saturday and a stream of controversies took place in the ceremony. Kalyan Singh is known for his role in the Babri Masjid demolition, and Uttar Pradesh riots. It can be seen in the image posted of his ceremony, that the body was covered with the Indian flag. The Indian flag in return was covered with the BJP party flag. This sparked outrage amongst several distinguished leaders in the nation.
Also Read Rebel Forces Kill 40 Taliban Fighters During Afghanistan Crisis
Questions Raised By Shashi Tharoor
Shashi Tharoor had tweeted the image of this ceremony and had stated that when every common Indian citizen trembles with devotion and joy at the very sight of the national flag, it is indeed an abomination to cover it with such a menial thing as a party flag. Last Sunday, Prime Minister Narendra Modi had also visited Lucknow in order to pay his respect to the belated leader. He had acknowledged Kalyan Singh as one of the most prominent leaders of BJP, as well as his role in Indian politics. He also called Kalyan Singh a symbol of faith for the people in his state.
Insult To The Indian Flag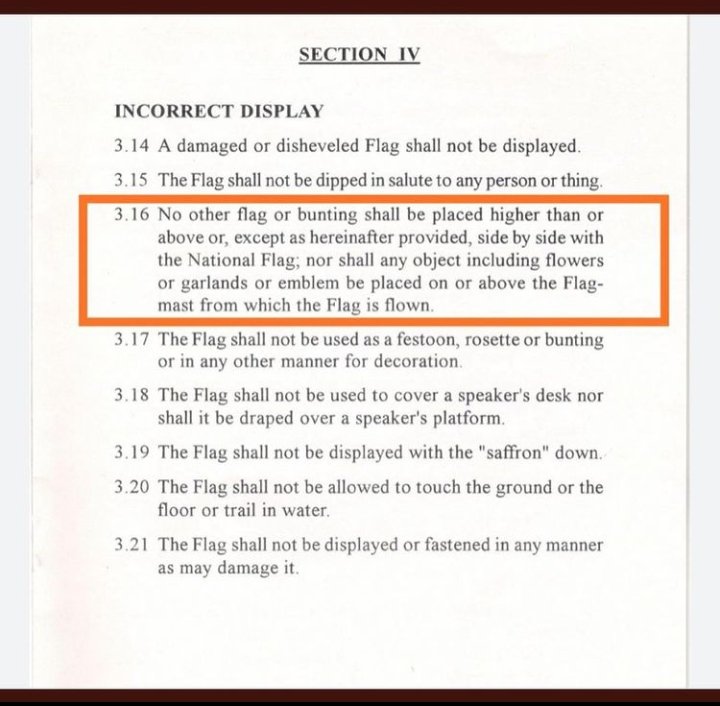 Several questions have been raised against this covering up of the Indian flag with a party flag. Many have argued that this is the policy of the Bharatiya Janata Party – to keep the needs of the party ahead of the country. Many have also mocked the fact that the Central Government, which had been so vocal about the protests at the farmer's rally on 26th January, has now defiled the position of the National flag itself.
Also Read Delhi Police Arrest BJP Leaders For Raising Anti-Muslim Slogans In Rally
What Do You Think?
Do you think that this act of the BJP has been an insult to the national flag of India? Let us know your views in the comment section below.
For the more latest news, visit current affairs.